Problematic terminology has always been a part of the conversation around considering Autism Spectrum. Word choice is key.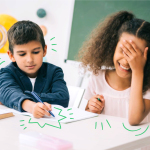 If you have a child on the Autism Spectrum, you may experience ups and downs regarding their school. Hear from a mother about her experience.
Autism Acceptance Week – Hear from Moshi user and Employee, Bexy West, about her journeys as a mother of an autistic little boy.