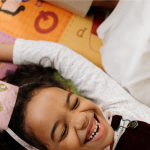 last updated 23rd February 2023
1. Who are you and what is this about?
Welcome to our world! We are Mind Candy Limited, a family entertainment company that creates extraordinary brands. We are a company registered in England and Wales under company number 05119483 and with our registered office at 42 Berners St, London W1T 3ND UK. Our VAT number is GB252964288.
Customer Experience Team: support@moshikids.com
We operate the Moshi Kids app ('App'). When you use or sign up for our App we ask you to agree to these Terms of Service ('Terms' for short). This way you know what to expect from us and what we can expect in return.
If you're comfortable signing up to these Terms, then please join us!
2. What are the Terms of Service?
Our Terms form the contract between us. They include this document, our Privacy Policy, our Cookie Policy, and any additional terms or policies that may apply to some or all of our Services. By using our App, you agree to these Terms. Please read them carefully and make sure that you understand them. You should print a copy of these Terms for future reference.
Where additional terms or policies apply, we will update these Terms to include them. If there are any conflicts between additional terms or policies and these Terms, then these Terms will take precedence.
3. What does it mean?
"Personal Information" means any information that can be used to personally identify you, including information you give to us when you join (e.g. name, email address, physical address) and any information that we collect as you use the App.
"Service" or "Services" means the products and services provided by Mind Candy, including the App, our websites and any other online, offline and/or mobile products and services on or via any platform or technology.
The words "include" or "including" shall be construed without limitation to the words following.
4. I am under 16, can I use the App?
The App is intended for use by parents to assist children to Relax, Sleep & Play. By creating an account and purchasing a subscription to the App ('Subscription') you confirm that you are over the age of majority in your province or territory of residence. We reserve the right to cancel any Subscription that has not been purchased by the bank account holder. If you believe we may have personal information about a child that was not provided with parental consent, please contact us at info@moshikids.com.
5. Do I need to have an account to use the App?
You need to have an account to use the App, but you can still use the app for free with limited access to content.  Once you have created an account you can purchase a Subscription if you wish. A Subscription means you can access all content within your App on an ongoing basis. With both free accounts and paid Subscriptions you can log in to, and share, your account across three different electronic devices, for example, your phone, tablet or computer (educators).
6. How do I create an account and buy a Subscription?
You can create an account by registering within the App or on our website https://www.moshikids.com with your full name, a valid email address, and password. In order to create an account we will ask you to create a user profile and provide us with personal information. All of this is your Personal Information which you can access at any time. To find out more about the information that we collect and how we use it, please see our Privacy Policy.
Subscriptions can be purchased directly through our website https://www.moshikids.com, or through Amazon, Apple or Google. As well as these Terms, your Subscription will also be subject to the terms of your agreement with PayPal, Braintree, Amazon, Apple or Google as applicable. Mind Candy never receives or stores any of your credit or debit card information.
For Subscriptions purchased through our website:
these are handled by either PayPal or our partner Braintree

go to https://www.moshikids.com/subscribe

select a Subscription plan (offers and plans may change from time to time)

create an account with your full name and email address

we set the price in GBP, USD, CAD, AUD and EUR

enter your relevant details to pay by PayPal or credit card
For Subscriptions purchased through Amazon, Apple or Google open the App and:
create an account with your full name and email address

select a content tile with a padlock icon

we set the price in GBP and then Amazon, Apple and Google determine the price for the country associated with your account

select a Subscription plan (offers and plans may change from time to time)

enter your relevant details to register and pay through Amazon, Apple or Google as applicable
Your Subscription begins as soon as you purchase it. At the end of each Subscription period, your Subscription will automatically renew and you will be charged again until you cancel the Subscription plan.
If you want to change your Subscription you will need to cancel your current Subscription plan and purchase a new one.
If your Subscription is due to renew and the payment method fails, your card issuer may try the payment again, if subsequent attempts fail, your subscription will end.
Subscription plans are inclusive of VAT or equivalent local sales tax. We may change the price for a Subscription from time to time and will try to give you notice of these changes before they come into effect. For existing Subscriptions, any changes we make will take effect at the start of your next Subscription renewal period after the price change. You will be considered to have agreed to the new price if you keep using the App after the price change. If you are unhappy with the price change you should cancel your Subscription before the change takes effect.
7. How do the free trials work?
From time to time we may offer a free trial period as part of a Subscription ('free trial'). The length of any free trial we offer may change from time to time. You may only redeem the free trial offer once.
To activate the free trial you need to enter your payment information for the Subscription through our website https://www.moshikids.com, or through Amazon, Apple or Google (as set out in section 6 above), but you will not be charged for the Subscription until the free trial comes to an end.
If you decide not to continue with your purchase of the Subscription when the free trial ends, you must cancel the Subscription at least 24 hours before the end of the free trial. If you do not cancel within this time, you may still be charged for the Subscription.
If you attempt to redeem a free trial having previously had one, payment for the full subscription will be taken immediately.
8. How do I use my voucher for free access to a Subscription?
From time to time we may offer free access to a Subscription for a specified period, which you can obtain by using a valid voucher code ('Free Access').
To obtain such Free Access, you need to create an account as set out in section 6 above by registering within the App or on our website with your full name, a valid email address, and password and verifying your email address. Once your account is created (It is important at this point not to enter any payment details.) go to https://app.moshikids.com/redeem-code, log in to your account and enter the valid voucher code to unlock the free Subscription content for the Free Access period. At the end of the Free Access period, the Subscription content you have been able to use will be locked. If you want to continue to have this content available in the App you will need to purchase a Subscription plan as set out in section 6 above.
We will decide if you are eligible to obtain Free Access and we may change or withdraw the Free Access at any time, with or without notice, and with no liability, to the fullest extent permitted by law. In addition to these Terms, the following conditions apply to Free Access:
a voucher code can only be redeemed once

you can only redeem one voucher code at a time

voucher codes cannot be transferred or assigned to anyone else.
9. Promotional Offers
Unless otherwise specified, promotional codes and/or discount offers cannot be used in conjunction with any other offer and do not apply to any other Mind Candy brands or products.
Any refunds will take into account the discount applied as part of the offer.
Offers are only valid until the date specified by Mind Candy.
Mind Candy reserves the right to decline to accept discounts where, in its reasonable opinion, a promotion code or discount is invalid being placed or is the subject of fraudulent activity.
10. How do I cancel my Subscription?
You can cancel your Subscription plan at any time as follows:
If you have purchased your Subscription plan from Amazon, Apple or Google you must cancel your Subscription plan directly with them and follow their instructions, as they (not Mind Candy) are in charge of this billing. You will receive an email from Amazon, Apple or Google confirming your cancellation.
Deleting the App will not cancel your Subscription.
When you cancel your Subscription, it remains valid up until the last day of the Subscription period that you have paid for and you will not receive a refund of your payment for that period. If you cancel at least one day before the end of the current Subscription period, cancellation will take effect at the end of that Subscription period.
You will not be able to access Subscription only content when your Subscription ends. If you purchase a Subscription in the future, however, this will re-enable all such content.
11. Who do I contact about refunds or a billing dispute?
For Subscriptions purchased via our website please contact our Customer Experience Team at support@moshikids.com.
For Subscriptions purchased via Amazon, Apple or Google you will need to contact the Apple App Store for iTunes accounts, or the Google Play Store or the Amazon App Store for Android devices.
12. Keep your account safe
Your account will be unique to you. Treat it carefully and keep it to yourself. If we close your account and Subscription because you have broken the rules, you do not have the right to another one.
Here are some commitments you make to us about registering and maintaining the security of your account:
You will not share your password or let anyone else access your account, or do anything that might jeopardise the security of your account

You will ensure that your Personal Information is complete, accurate and up to date

You will not create an account for anyone other than yourself or your child (or a child of whom you are the legal guardian) without permission

If we disable your account, you will not create another one without our permission

You will not transfer your account to anyone without first getting our written permission

If you think someone has unauthorised access to your password or account, please let us know immediately at support@moshikids.com.
13. What are my rights when I use the App?
Our Services, including the App, contain software, technology, and proprietary and confidential information that is protected by intellectual property rights and other laws. Content on our Services may be protected by copyrights, trademarks, service marks, patents or other proprietary rights and laws.
Mind Candy grants you a personal, revocable, non-transferable, non-sublicensable and non-exclusive licence to use the App on your device in accordance with these Terms. This licence is for the sole purpose of enabling you to use and enjoy the benefit of the App in the manner permitted by these Terms.
You do not obtain any other right or interest in our Services or in or to Mind Candy's assets.
14. What are your rules when I use the App?
Everyone is welcome to use our App and we want everyone to enjoy being part of our trusted community.
We need everyone to commit to the following rules:
You must follow these Terms when you use the App

You will not use the App in any way: (i) that breaches any applicable local, national or international law or regulation; or (ii) that is unlawful, fraudulent, or misleading

You will not use the App for any commercial purposes without our prior written permission

You will only download the App for your sole, personal use and will not sell on or pass the App to a third party (save for your child, or a child of whom you are legal guardian, as noted above)

You will not impersonate or falsely state your affiliation to any person or organisation

You will not create more than one account without our prior written consent

Except as expressly permitted by applicable law or authorised by Mind Candy, you will not use, distribute, reproduce, modify, copy, adapt, publish, translate, create derivative works from, rent, sell, publicly perform or publicly display any part of our App, Services, or included platform or software, nor may you reverse engineer, decompile, disassemble or attempt to extract the source code of that platform or software

You will not infringe Mind Candy's or any third party's copyright, patent, trademark, trade secret or other intellectual property rights

You will not send or otherwise post unauthorised commercial communications (such as spam) on or through the App

You will not collect users' content or information, solicit login information or access an account belonging to someone else

You will not misuse the App. For example, you will not interfere with the App or try to access it using a method other than the interface and the instructions that we provide, such as using automated means (including harvesting bots, robots, spiders, or scrapers) without our permission

You will not do anything that could disrupt, disable, overburden, or damage the proper working of the App, such as a denial of service attack

You will not upload viruses or other malicious code

You will not use the App for anything that is abusive or does not comply with our content standards

You will not facilitate or encourage any violations of these Terms
The following content standards apply to your use of the App, including any content you post as part of our Services (if applicable):
any content must be accurate, genuinely held (where you state an opinion), and comply with all applicable laws and regulation

you will not bully, intimidate, or harass any user

you will not act in a manner, use the App in any way, or post any content, that is hateful, threatening, defamatory, pornographic, obscene, or discriminatory; promotes violence; contains graphic or gratuitous violence, or is otherwise offensive or objectionable.
If you break any of the above rules, or if we are investigating suspected misconduct, we may suspend or stop providing the App to you or close your account and Subscription immediately. We may refuse the use of our Services or App without providing reasons.
15. What are Mind Candy's rights?
We are constantly changing and improving our Services, including the App. We may add or remove functionalities or features and we may suspend or stop a Service altogether.
Occasionally, we may have to:
interrupt our Services; if we do so, we will restore it as quickly as we can.
make changes to certain technical specifications and product features.
We may automatically download software updates on your computers and devices from time to time, in order to improve, repair or modify our Services. We will try to give you a choice as to whether or not to install the update. However, in certain circumstances (for example, where there are security risks), we may require you to install the updated version of the App and accept any new terms before you can continue using the App.
In addition to our other rights:
We may also stop providing our App to you or add or create new limits to the App.
If we discontinue the App, where reasonably possible, we will give you advance notice.
We may provide access to paid or free content via a 3rd party platform or service and we or the 3rd party may also remove this access at any time.
16. What about other people's rights?
We respect other people's rights and expect you to do the same. You will not take any action on our Services, including the App, that infringes or violates someone else's rights or otherwise violates the law.
You may not use content from any of our Services, including the App unless you obtain permission from us or its owner or are otherwise permitted by law.
Our Services display some content that is not owned by Mind Candy. This content is the sole responsibility of the entity that makes it available. Branding, trademarks, service marks, logos and content used in the App may belong to Mind Candy or other persons. These Terms do not grant you the right to use them.
If you see something that you think is an issue and want to notify us, please send an email to us at info@moshikids.com.
17. How do you use my Personal Information?
We care about the security of your Personal Information. Our Privacy Policy explains how we will store, use and share your Personal Information and how you can control and delete it. Please read our Privacy Policy.
Your billing information is collected by PayPal, Braintree, Apple, Amazon or Google, depending on the device you are using and your method of purchasing a Subscription. You should read the relevant privacy policy carefully.
Where applicable laws require, we will comply with legitimate requests by authorities or court orders to disclose your information.
18. Do you serve advertisements in your App?
No, we will not show ads in our App.
Our Services, including the App, may include links to websites or apps provided by another entity. These links are provided for your convenience only. We do not endorse and are not responsible for such third-party websites or apps. You should read their relevant terms of service and privacy policy carefully.
19. Will you change your Terms?
We will certainly have to update our Terms in the future, for example, due to ongoing improvement and other changes in our Services and changes to the laws that apply to us and you.
When we update our Terms, we will try to give you advance notice by posting the change in the App. You should look at these Terms regularly.
Where we reasonably believe that a change is likely to cause you material disadvantage, we will try to let you know in advance. However, changes in our Terms that: (i) are more favourable to you; (ii) relate to new functions for the App; (iii) are made for legal or regulatory reasons; or (iv) do not reduce your rights or increase your obligations, will be effective immediately.
If you do not agree to the changes, you should stop using the App. If you continue to use the App after any change is announced, you will be considered to have agreed to the change.
20. What happens if I break these Terms?
If you don't keep to the rules set out here, it's up to us how we respond, but we may stop you from using your account and cancel your Subscription, without a refund.
If you break these Terms or otherwise create risk or possible legal exposure for us, we can stop providing all or part of our Services to you with or without notice, and you may lose your account. In all such cases, these Terms will come to an end.
Sometimes we may choose to ignore it if you break one of our Terms, or we may choose not to enforce a particular term. But even if we do this, we can still choose to enforce that term or take action because you break that or any other term in the future.
21. How is my account closed?
You can stop using our App at any time, although we will be sorry to see you go. If you wish to stop using our App and close your account and Subscription, you should follow the instructions within the App settings or contact support@moshikids.com. Simply deleting the App will not terminate your Subscription. If you have signed up for any marketing emails, you can unsubscribe by clicking the link at the bottom of any of our emails.
Please see our Privacy Policy to read more about deleting your Personal Information.
We may suspend or close your account and Subscription at any time, with or without giving notice, including for the following reasons:
If you break these Terms or are in breach of an obligation to us, in which case we will not offer you any refund for your Subscription

Your account is inactive for an extended period of time

We suspend or discontinue all, or part of, our Service

Suspected unauthorised or fraudulent use of your account

Unexpected technical or security problems
Where we reasonably can, we will let you know in advance.
22. What are Mind Candy's responsibilities and liability when you provide the App?
We provide the App using a commercially reasonable level of skill and care and we hope that you will enjoy using it. But there are certain things that we do not promise about the App.
We provide our Services "as is". Other than as expressly set out in these Terms, neither Mind Candy, our subsidiaries nor affiliates makes any specific promises about the App. For example, we do not make any commitments about the content within the App, the specific functions of the App or its accuracy, reliability, availability or ability to meet your needs. We do not guarantee that our Services will be uninterrupted or that they will always be available. We cannot guarantee that our Services will be free from bugs or viruses, or never be faulty.
When permitted by law, we have no responsibility to pay you compensation for financial loss, indirect loss, any information which is lost or corrupted, or any loss that could not have been reasonably expected. We will not be liable to you for any losses that you may suffer if you have used the App for business purposes.
We do not exclude or limit our liability for death or personal injury caused by our negligence, for fraud or any other liability that English law does not allow us to exclude or limit.
To the extent permitted by law, you acknowledge that your only remedy with respect to any problems or dissatisfaction with the App or its content is to stop using the App or such content and uninstall the App.
Some jurisdictions provide for certain warranties, like the implied warranty of satisfactory quality, fitness for a particular purpose and non-infringement. Please note, however, that we are providing the App under English law. Mind Candy Limited and its affiliates, licensors and licensees disclaim any and all warranties and conditions (express or implied) to the fullest extent permitted by law.
If you are using the App for a personal purpose then nothing in these Terms limits any consumers' legal rights which may not be waived by contract.
23. What are my responsibilities for damage if I misuse the App?
You will 'hold harmless' and repay Mind Candy in relation to any claims, losses, costs and liabilities arising from any legitimate claims a third party may make because of your use or misuse of the App.
24. I have a great idea and I want to share it with Mind Candy, what are my rights?
If you send any ideas or suggestions to us, you will not be paid or rewarded for them and we can use them in any way we wish.
If you submit any ideas, suggestions, proposals, or documents to Mind Candy (together, "Contributions"), you agree that: (i) your Contributions do not contain confidential or proprietary information; (ii) Mind Candy is not under any obligation of confidentiality regarding those Contributions; (iii) Mind Candy may have something similar to the Contributions already in development or under consideration; (iv) Mind Candy may use or disclose (or not) such Contributions for any purpose in any way; (v) your Contributions automatically become the property of Mind Candy without any obligation of Mind Candy to you; and (vi) unless otherwise specifically agreed with us in writing, you are not entitled to any payment, compensation or reimbursement of any kind from Mind Candy under any circumstances.
25. How do I complain and how do we contact each other?
If you have a problem or complaint about the App, or just want to give us feedback, you can email us at support@moshikids.com.
You accept that communication with us will be mainly electronic. When we have important things to tell you about the App we will use the contact information you provided (e.g. email address) or post them within the App. You agree to this electronic means of communication. You may not opt-out from receiving these communications (unless you cancel your account and Subscription and stop using the App).
26. What else do I need to know?
These Terms make up the entire agreement between us relating to the App and any Subscription you may take and override any prior agreements. You acknowledge that you have entered into these Terms without relying upon any promises or statements other than those set out in these Terms.
These Terms are between us and you and are not intended to be for the benefit of, and will not be enforceable by, any third party under the Contract (Rights of Third Parties) Act 1999 or otherwise.
You accept that these Terms are personal to you and agree not to transfer them to anyone else, or to try to do so. We can transfer this agreement to another company provided this does not adversely affect your rights under the Terms.
We will protect the privacy of your account even after you die or are incapacitated. We will not provide your account information or your content to anyone, even next of kin, unless we are legally required to do so.
Sometimes we may not be able to provide you with the App because of something beyond our reasonable control, which may include: lightning, flood, severe weather, fire, explosion, terrorist activities, anything done by government or other competent authority, or industrial disputes. There may be other reasons too. In these cases, we cannot be liable for delays or being unable to provide you with our Services.
After these Terms come to an end, any provisions of these Terms that either explicitly or by their nature must remain in effect after termination will survive termination of the Terms.
If any portion of these Terms is found to be unlawful or unenforceable, the remaining portion will remain in full force and effect.
These Terms and our relationship will be governed by the laws of England and Wales and we both agree to the exclusive jurisdiction of the English courts.
27. Mobile network charges
The App may require the use of data access and text messaging and may incur charges from your mobile network provider. You are responsible for all charges that your mobile network provider may apply
28. Competitions or Giveaways
Competitions or giveaways are operated by Mind Candy Ltd (Moshi Kids) at 42 Berners Street, London, W1T 3QB
We may partner with other brands subject to conditions. These will be posted at the time of the giveaway
If a Moshi Soft toy is included: The winner can select from Nodkins or SleepyPaws characters (RRP £25/$)
If a Moshi Annual Subscription is included: If you are an existing Moshi customer, the subscription can be applied after your next billing cycle, we will contact you to arrange this. If other physical items are included directly from Moshi, a gift card will be sent instead
By entering the giveaway, you consent to have your details passed to partners for the sole purpose of contacting you to arrange delivery of your prize
Due to the fact that prizes may be sent by different companies, they may not all arrive simultaneously
Prize delivery may take up to 30 days depending on the final destination
The prize is to be delivered to 1 address only
No purchase is necessary to enter. There is no cash equivalent to the prize and it cannot be refunded
Prizes are non-transferable
Any giveaway is not affiliated with Instagram, Facebook, TikTok or Twitter
You must be 18+ and a resident of the U.K, US or Canada to enter
The giveaway will be available from the dates specified on the giveaway post
A digital prize draw software will be used to draw the winner at random
The winner will be publicly tagged in our social post