It all starts with play.
A safe, fun learning space for kids with games & activities that expand imaginations and smiles.
Creative digital experiences for curious kids
Coloring
supports creativity
Hide & Seek
teaches focus & concentration
Memory
teaches critical thinking
Puzzles
teaches logical reasoning
Matching
teaches pattern recognition
Coloring
Coloring is a powerful tool that contributes to a child's psychological, cognitive and emotional development.
Coloring activities nurture essential life skills like creativity and self-expression, and promote a strong foundation for a child's academic success.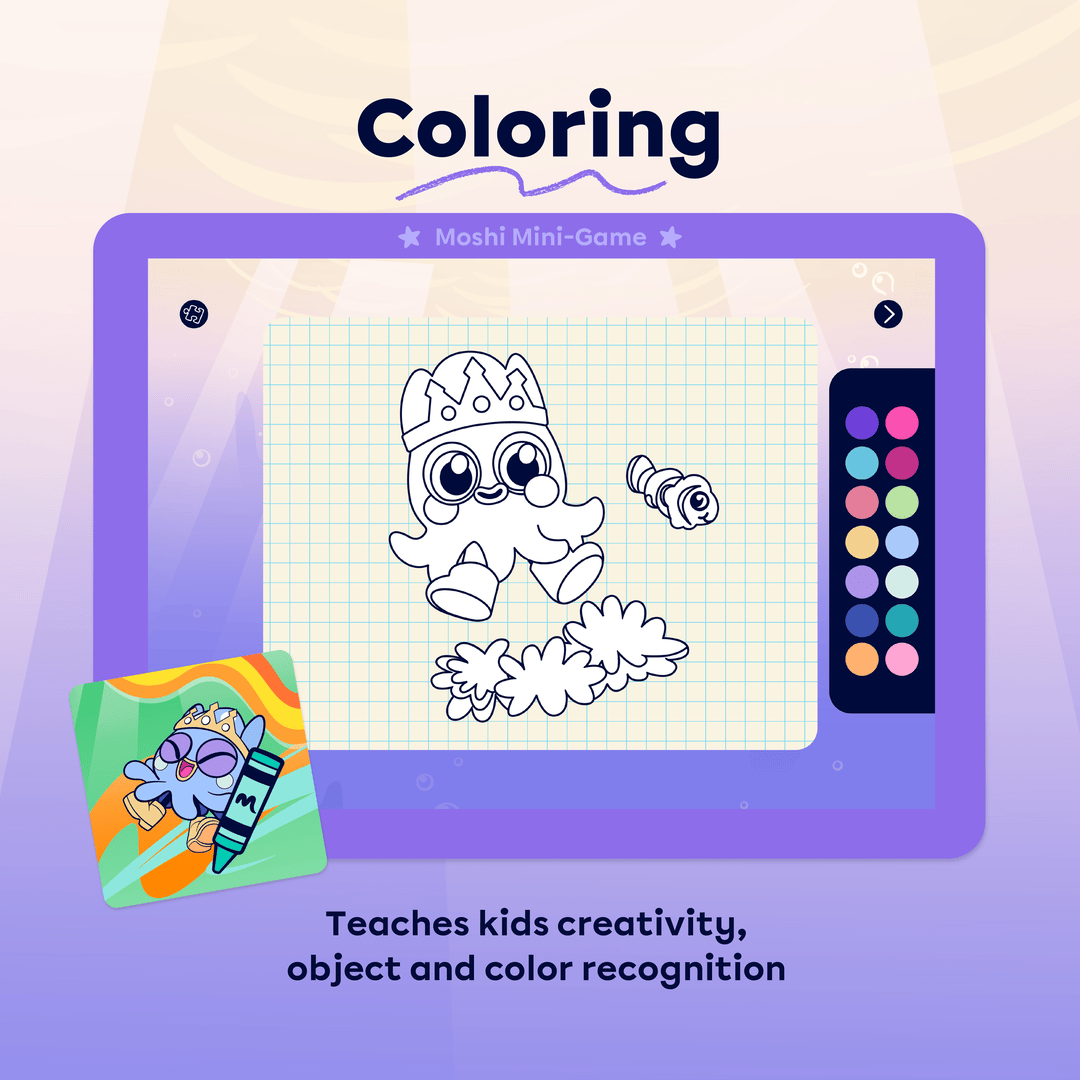 Puzzles
Puzzle activities improve the way kids make logical connections in their brains, and help them form new ones, thus improving short term memory.
Solving a puzzle also teaches pattern recognition skills, e.g. the brain's ability to create meaning, find order and form answers from data that it's been presented with.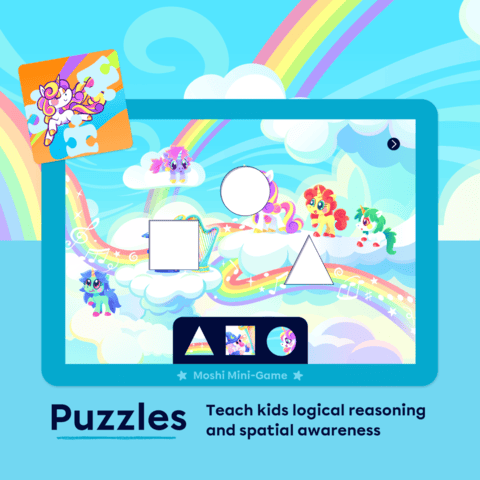 Memory
Memory games for children improve brain functions like attention, concentration and focus.
The difficulty of Moshi's memory activities are tailored to your child's age and improve critical thinking skills and resilience. Memory games also help kids develop and strengthen the area of the brain responsible for judgment, self-control and planning.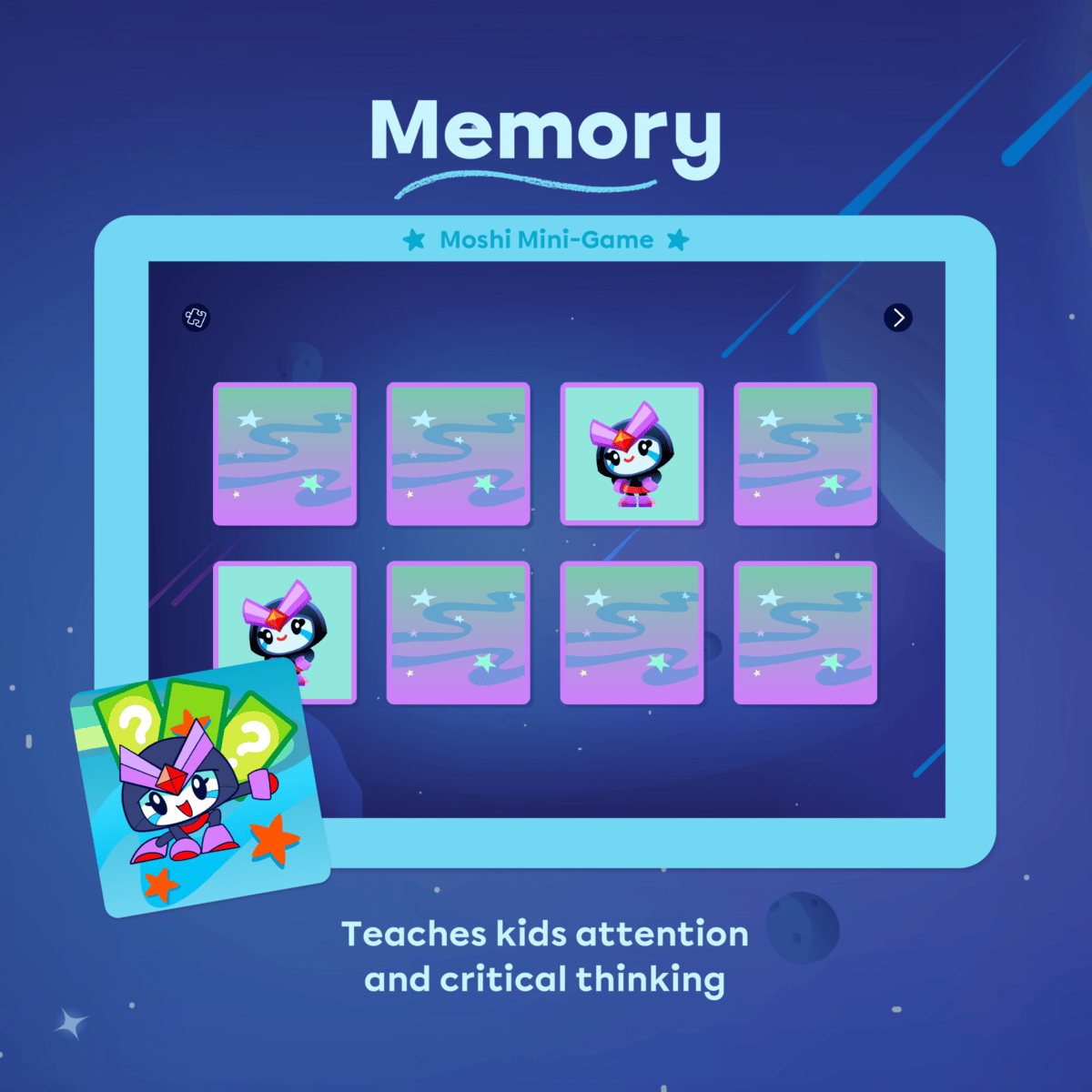 Matching
Matching games help kids identify patterns, relationships, similarities and differences — all which strengthen pre-reading and literacy skill-building.
Matching activities also help kids improve visual recognition, attention to detail and observation skills. Kids experience rewarding 'win' moments for each match they complete, which builds confidence and enables progression towards more challenging activities.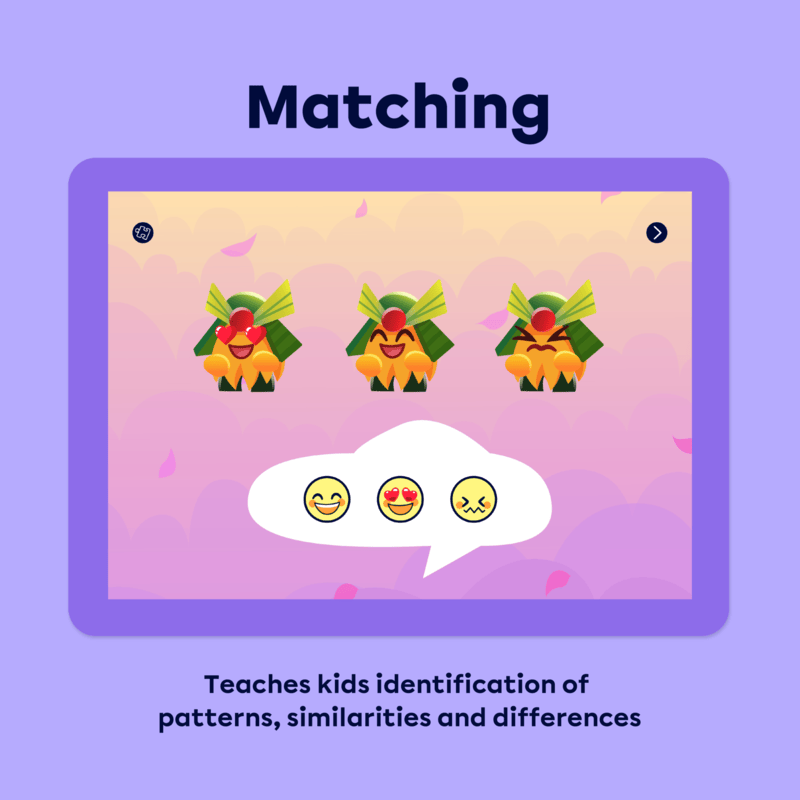 Hide & Seek
Hidden object search games support kids develop object and pattern recognition and build strong attention to detail.
Hide and Seek or object recognition activities build visual discrimination, which requires the ability to scan an image and recognize details – including both similarities and differences. Visual discrimination is a critical reading and writing skill and is developed from toddlerhood through preschool.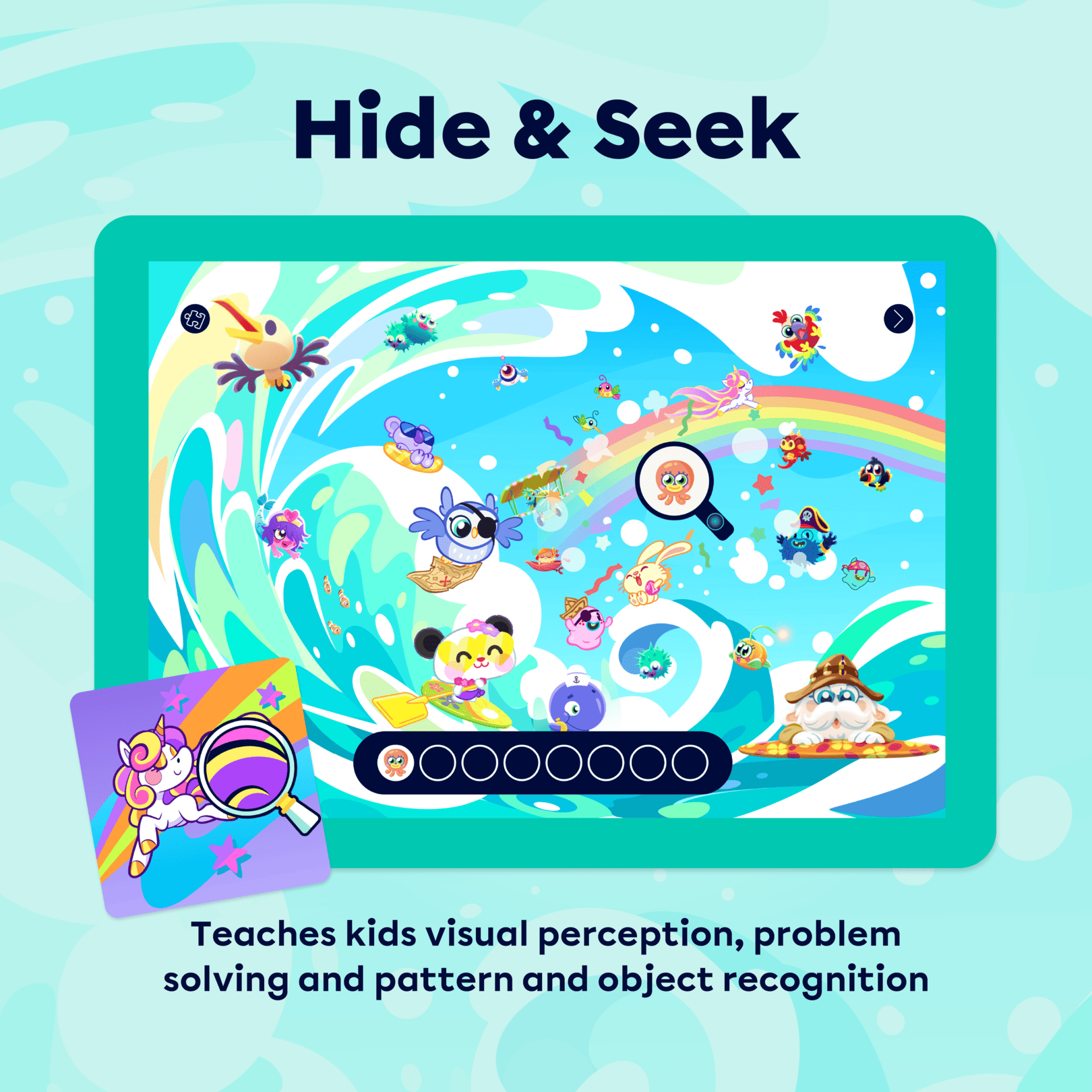 Play. Explore. Learn.
Cognitive Benefits of Moshi Activities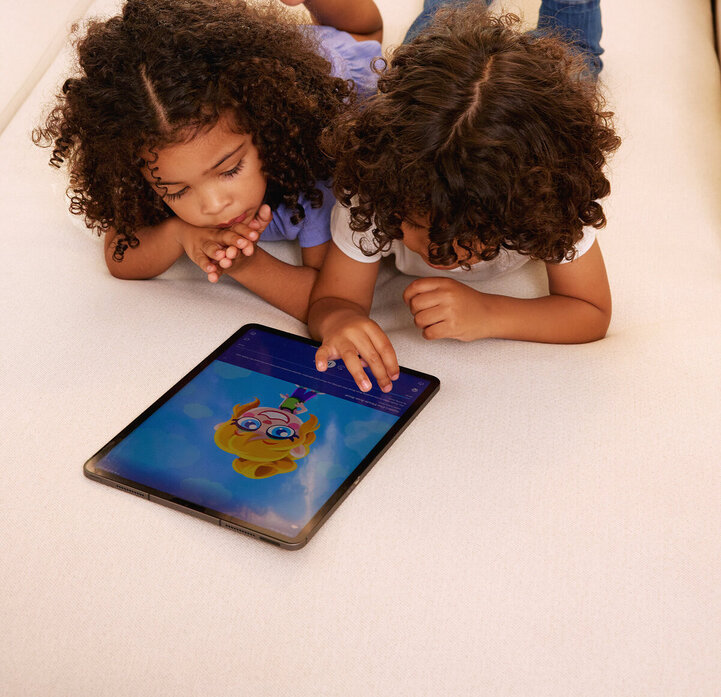 Color, object, pattern recognition
By identifying, naming, and selecting colors, kids can build a strong foundation for understanding more complex concepts that aid in their development of visual literacy.
The ability to recognize figures in a variety of contexts is critical to healthy cognitive development. Moshi's activities help children recognize and distinguish various objects and colors. With practice, children will learn to associate specific colors with objects, emotions and even cultural meanings.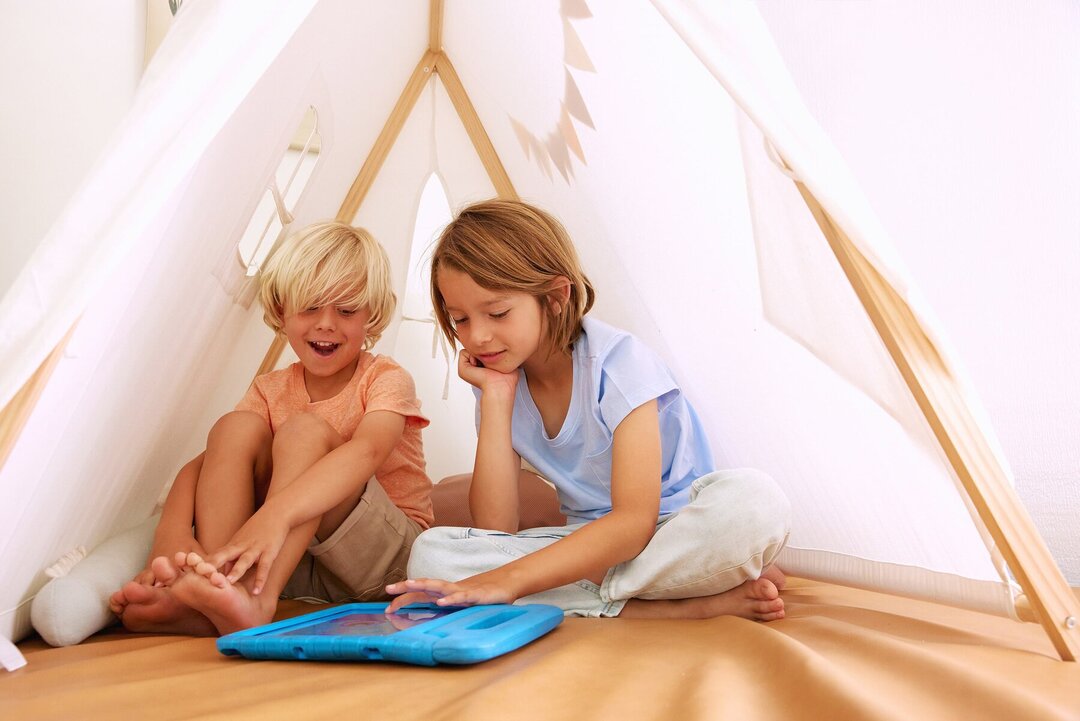 Problem solving
Completing any Moshi activity requires critical thinking, reasoning and problem-solving skills, while helping reinforce existing connections between the brain and developing short-term memory.
Children will learn to work through a problem until they reach a solution as they fit pieces together in Moshi's puzzle activities or try to recall the sequence the Moshlings were shown in behind each playing card. By coloring Moshlings differently each time, or coloring multiple Moshlings, kids can learn there are multiple paths to an object's completion.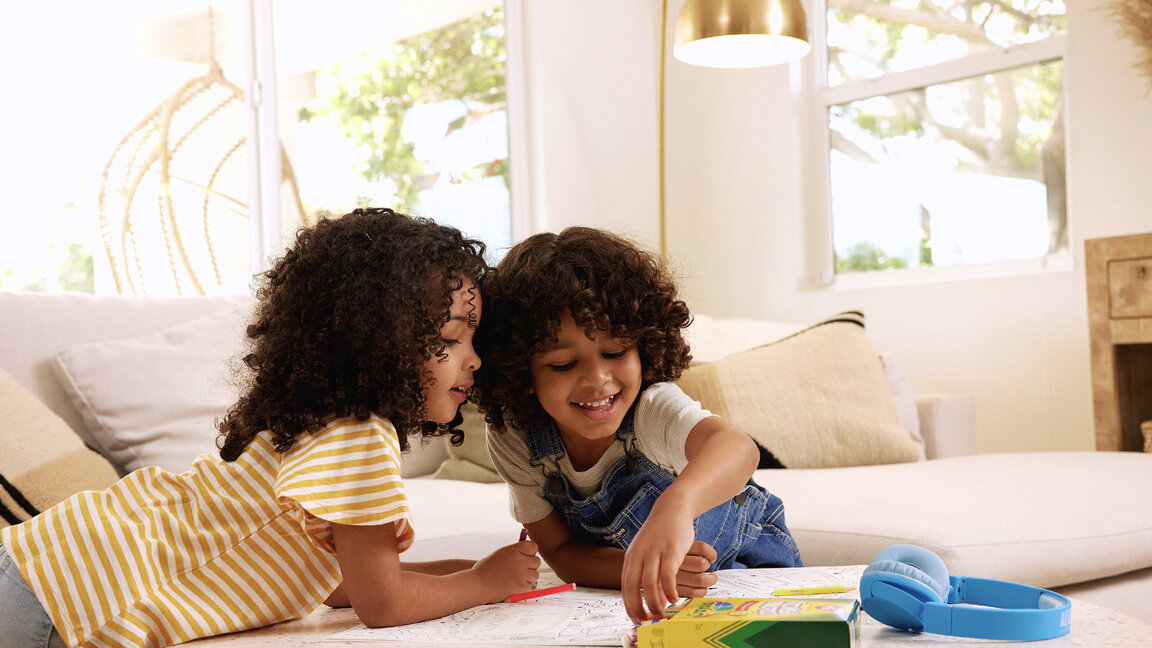 Fine motor skills
As kids maneuver through an activity, they're honing their hand-eye coordination, dexterity, and precision.
By engaging in any of our activities regularly, children can progressively refine their motor skills, as they require kids to focus on details, remember where objects are located and think strategically. Moshi's activities also help kids develop the ability to focus for extended periods—a skill that translates to improved performance in tasks such as reading, writing and problem-solving.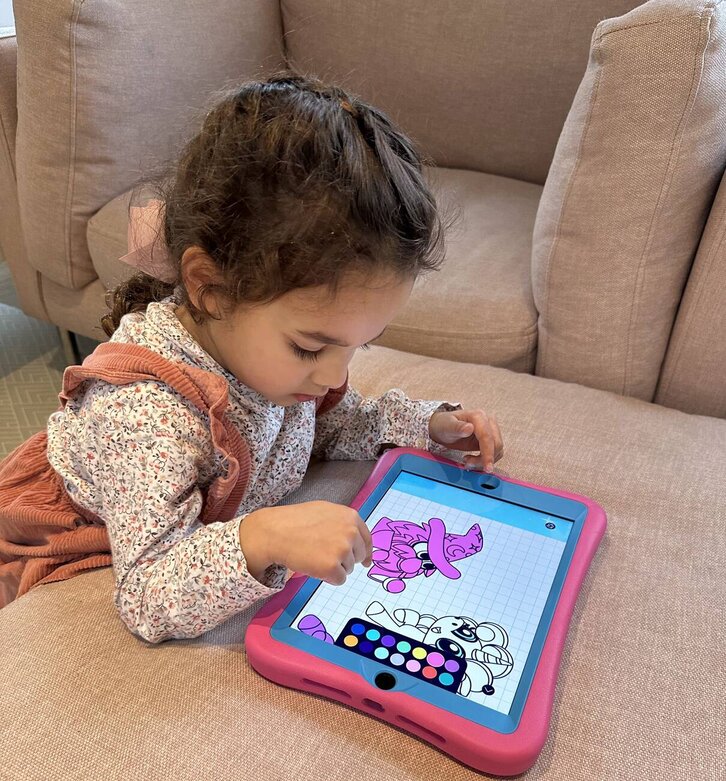 Visual perception
Children develop their skills of movement, depth and distance perception by working out how smaller pieces fit into the bigger picture – this set of skills is known to neurologists as visuospatial functioning.
Visual perception is critical for learning to read and write, thus activities that help with spatial awareness and visual perception are great early literacy and writing tools. When children see different shapes, images and colors during activities that involve puzzles, searching for objects, coloring or matching, that information gets sent to their brains to interpret, which helps them develop visual perception. Visual perception allows kids to understand why two pieces should connect together, or how they form a part of the bigger picture. Our activities build several aspects of visual perception, including visual memory, visual discrimination (seeing similarities and differences in things), visual comprehension (making sense of what you see), perception of shapes, visual analysis and synthesis (seeing patterns and putting them together) and visual closure (ability to identify what an object is by seeing a piece of it).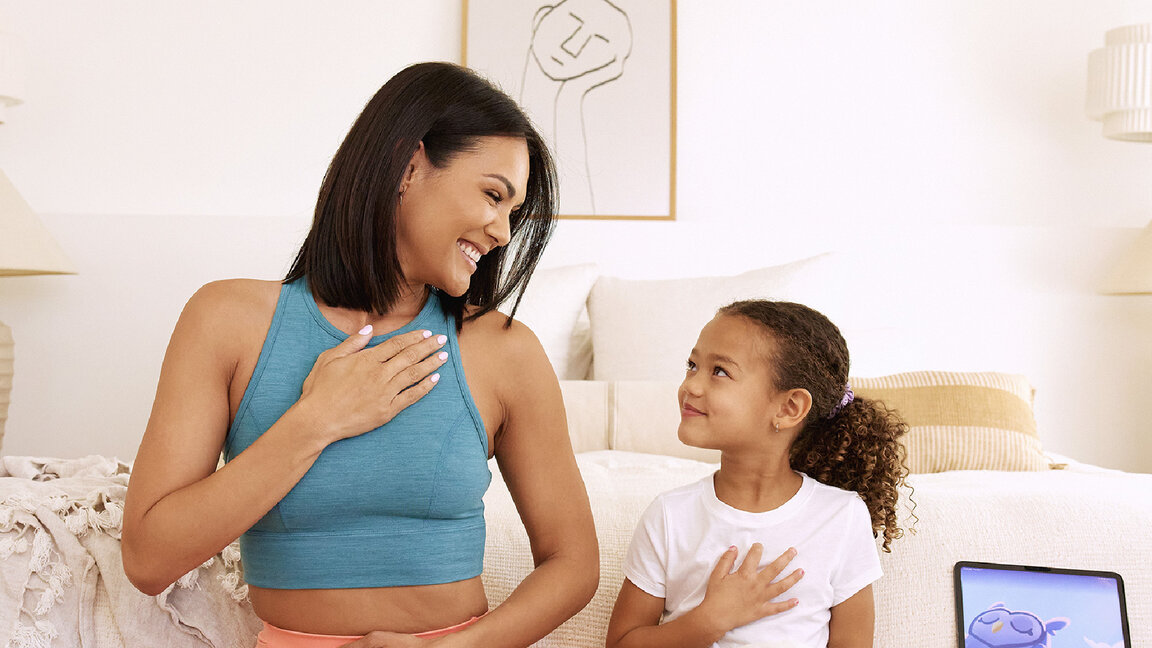 Mindfulness
All Moshi's activities are designed to help kids release stress and encourage mindfulness. They're not the types of games that will hype a child up; rather, settle down, relax and concentrate. All activities are great ways to calm an anxious child, entertain them in a positive, healthy way, or empower them to develop new skills. They're also great tools to use when you want to help children wind down from active play sessions. Moshi also has interactive breathing exercises in the app to taech kids proper deep breathing techniques alongside their favorite Moshlings.
Want more Moshi activities?
Entertaining digital and printable experiences kids love
Try Moshi for Free Today
Why try?
Annual +7 day free trial
$79.99 USD / year, billed annually at $79.99USD
Best value
Start Free Trial
Play, sleep, listen, learn—day or night
Audio stories for sleep, anxiety, calming down and focusing
Puzzles, coloring, matching and memory activities for kids
Fun, positive way for kids to play and stay entertained
Sign Up Now
Start your 7 day free trial today!
Sign up for Moshi for Schools Today!
Healthy screentime
Trusted by parents and loved by kids
Cancel any time
FREE for all educators
SEL focused content
400 + audio tracks